We all know that money doesn't grow on trees, but sometimes it sure feels like it! If you're in a bind and need to make $3,000 fast, don't worry – I've got you covered.
This blog post will discuss several doable and effective ways to come up with some fast cash. It doesn't matter if you need a quick 3,000 bucks in a few days, a week, or a month. You'll find ideas for any timeframe.
Whether you need to pay your rent, cover an unexpected expense, or find your way to financial freedom, this article can help. And let's get started!
Related:
16 Ways to Make 3,000 Dollars Fast
Find the best money-making ideas to get $3,000 as soon as possible below.
1. Pet sitting
If you love animals, this could be a great idea for you. Walking dogs, feeding cats, and even cleaning up after them can be a great way to make some extra money, possibly $3,000 or more depending on your goals. And it's a lot of fun too!
Just like any other person, pet owners can get held up at work or plan a vacation to take their minds off things. At such a time, they won't be able to care for their pets. You can offer your services to friends, family, and neighbors first, and then branch out to other people in your area.
Also signing up with Rover to get connected with pet owners in your area who need help is a perfect strategy. As you already know, many people look for service providers online as it's less tiring. Rover will let you pick your time of work and the pets you prefer to look after for others.
2. House sitting
House sitting is when you stay at someone's house while they're gone on vacation or business to make sure everything is okay. It's a great way to generate some extra income, and you can often negotiate your rate.
For example, if you house sit for a week, you could charge $500 or more. And if you live in a big city where houses are worth a lot of money, you could easily make $3,000 in a few weeks or a month. It works best if you couple it with pet sitting, meaning you'll maximize what you earn.
There are a few ways to find house-sitting gigs. You can start by asking family and friends if they know anyone who needs a house sitter.
You can also search online for house-sitting opportunities nearby. Finally, you can join a house-sitting website like Trusted Housesitters where you can create a profile and apply for various house-sitting jobs.
3. Food and grocery delivery
Many of us either have a car, bike, scooter, or even all of them. If you're one of such people, you can sign up to be a delivery driver for food or grocery delivery services. This is a great way to make some extra money in your spare time.
For example, DoorDash is a popular food delivery app that pays real money to new drivers. You can work whenever you want, and you can make up to $25 an hour.
Similarly, Instacart is a grocery delivery service that's always looking for new shoppers and delivery people. You can also work any time you need and make good money doing it.
Simply sign up with one of these companies and start delivering food or groceries to people in your area. When you earn tips from customers, you get to keep the whole amount!
4. Freelance writing
Can you write meaningful content? If so, you can use your skills to make some extra cash by writing things like articles or blog posts for other people. This is called freelance writing, and it can be very lucrative.
When you're just getting started, you can often find work for $50 or $100 per article. Once you get some good feedback and a few clients under your belt, you can start charging more – sometimes much more.
For instance, a well-established freelance writer can charge $500 per blog post. If they write six of them per week, that's $3,000. There's the option to work less and still cover your $3,000 goal in a month.
If this is something you like, you can find work on many different freelancing platforms, such as Fiverr, and social media networks like LinkedIn. You can also reach out to businesses and individuals directly to see if they need help with their content.
5. Start a blog
This is a great option if you're creative, love writing, and want to build something long-term. It's not the quickest way to make $3,000, but it is one of the most sustainable.
Blogging is when you create your own website to write and publish articles on it about whatever topics you want. For example, you could start a travel blog or a personal finance blog.
The great thing about blogs is that once you get them started, they can make money for years to come. In fact, many bloggers make well over $100,000 per year from their sites.
If you're interested in starting a blog, I recommend using WordPress. It's the most popular blogging platform and it's very easy to use. You can get started for as little as $100 by buying a domain name and hosting your site on Bluehost.
This web host allows you to automatically install WordPress and start working on your new blog. Post consistently, promote your blog, and you'll gain enough traffic to monetize your content with ads, affiliate programs, or digital products.
6. Tutoring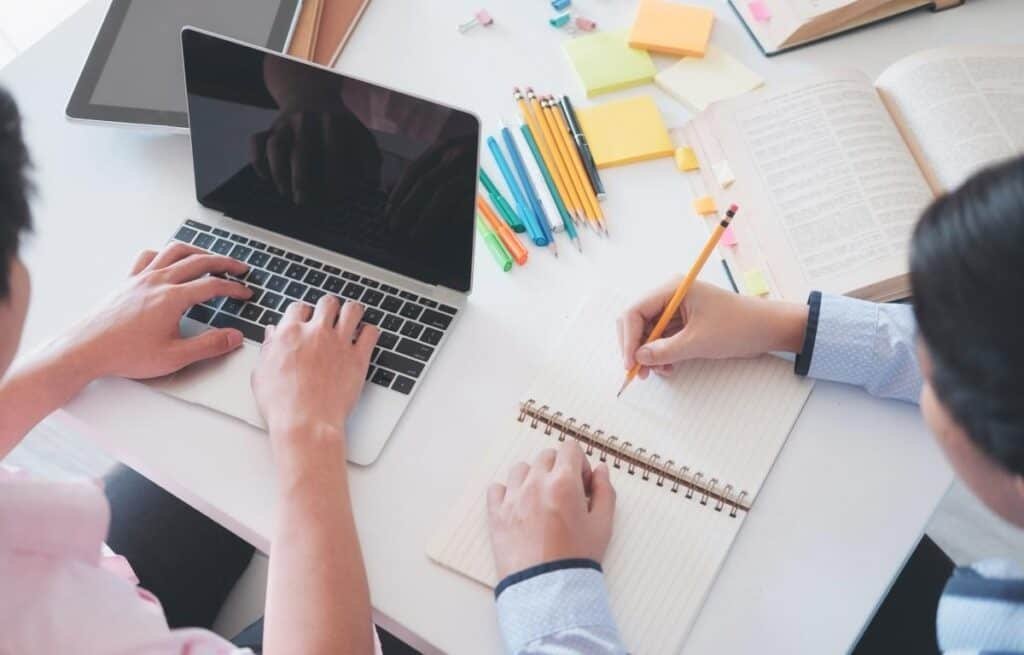 If you're good at academics, you could make some extra money by tutoring students in your area. You can do this online or in-person, and rates vary depending on the subject, the student's level, and where you live.
For example, a tutor in New York City could charge $50 per hour for math tutoring while someone in rural Ohio might only charge $20. The national average is around $25 per hour.
You're free to tutor a few hours on weekdays when free and even more on weekends to make your goal faster. And if you're tutoring higher-level courses or multiple students at once, you could easily make much more than $3,000 in a month.
To find students, the old way is to post flyers around town or tell your friends to spread the word. But now, there are online platforms like TutorMe where you can create a profile and students will come to you.
7. Start a YouTube channel
This is similar to starting a blog, but with video instead of writing. You'll need to create videos about topics you feel comfortable with and build up a following of viewers who like your content.
YouTube pays you based on many factors. Still, the number of people watching your videos matters. The more views, the more you make.
Once you reach a certain number of subscribers, you can start making even good money with things like sponsorships and product placements. To give you an idea, top YouTubers make millions of dollars per year. But if you're just starting out, a few thousand dollars is definitely achievable.
To get started, all you need is a camera and some editing software. You can film yourself talking, use a screen recorder for tutorials, or even animate your videos if you're feeling creative. Then, upload them to YouTube and start promoting your channel.
8. Sell your items online
Do you have any old clothes, furniture, or electronics lying around? If so, you could make some quick 3,000 bucks by selling them online.
There are many different places to sell your stuff online. Facebook Marketplace and Craigslist are two of the most popular options. But if you want to reach a larger audience, you could also list your items on eBay or Amazon. As if that's not enough, among the best places to list your tech and media items is Decluttr.
The great thing about selling online is that you can do it from anywhere in the world. And if you price your items well, you could make a lot of money in a short amount of time.
Just take some pictures of what you want to sell, create a listing, and start promoting it to your friends and family. You can also use paid advertising to reach more potential buyers.
9. Rent out your apartment or storage space
Do you have an extra room in your house or apartment? If so, you could make money by renting it out. There are many platforms that allow you to do this with ease, such as Airbnb.
The great thing about renting out your space is that you can start making money right away. And if you're able to find long-term tenants, you could potentially make a lot of money in the long run. Plus, it's a great way to meet new people from all over the world.
To begin getting guests, all you need to do is create an account on Airbnb and list your space. Then, you can start setting your own prices and schedule.
As for storage space, the Neighbor app is a great option. You can list your storage space like a spare room, shed, or basement, and get paid monthly.
10. Online real estate investing
If you have some money saved up, you could invest it in online real estate. There are many platforms that allow you to do this with little money. And if you pick the right properties, you could make a significant amount of profits in a short time.
The great thing about online real estate investing is that you can do it from anywhere in the world. All you need is an Internet connection and a computer. Plus, you can invest as little or as much money as you want.
To begin, all you need to do is create an account on a platform like Fundrise. Then, you can start browsing through properties and choosing which ones you want to invest in. It takes away the hassle that comes with real-life real estate, which is profitable too when done right.
11. Sell feet pics
No, this isn't a joke. You can actually make money by selling pictures of your feet online. Of course, it's not for everyone.
But there are many people who are willing to pay for photos of feet, whether it's because they think feet are aesthetically pleasing or for marketing purposes like feet modeling. And if you have nice-looking feet and can market yourself online, you could make a lot of money.
What you need is a proper camera and somewhere to upload your photos. You can create an account on a site like FeetFinder to connect with buyers. And once you start getting orders, all you have to do is take some pictures and send them off. It's that easy!
12. Affiliate marketing
Affiliate marketing is a great way to make money online. Basically, affiliate marketing is when you promote other people's products and receive a commission for each sale that you generate. The best part is that you can do this without having to create your own product.
You need is a blog or website. Then, you can sign up for affiliate programs and start promoting products. If you don't have a blog or website, you can still promote products through social media platforms like Facebook, Instagram, and TikTok.
As long as you're able to drive traffic to your affiliate links, you can make money. And if you're able to generate a lot of sales, you could potentially earn $3,000 in a day or even less.
13. Sell handmade goods
Do you like crafting? If so, you could make money by selling your handmade goods. Some profitable examples are jewelry, art, and other DIY stuff.
The great thing about selling handmade goods is that you can start with very little money. All you need is some supplies and a place to sell your goods. Another benefit of selling handmade goods is that you can do it from anywhere in the world and find local or international customers that appreciate the work of your hands.
There are many different platforms that allow you to sell your homemade crafts online. Etsy is one of the most popular options. You can always reach more people by also listing on other selling platforms like Amazon Handmade and eBay or social media.
14. Create an app
It could be that you have a great idea for an app. It's possible to get $3,000 in monthly, weekly, or even daily income by creating it. Of course, this requires some technical skills and knowledge. But if you're able to create a successful app, the potential earnings are limitless.
The first step is to come up with a great idea for an app. Then, you need to validate that idea and see if there's a market for it. Once you've done that, you can start building the app. And once it's finished, you can launch it on the App Store or Google Play Store.
If your app is successful, you could make a lot of money through in-app purchases, ads, or sponsorships. And if it's really successful, you could even sell it for a large sum of money.
15. Find odd jobs nearby
Do you like helping others? If so, you could get some extra bucks by doing odd jobs for people in your community. These include heavy lifting if you have the muscle for it, cleaning if you're known for your neatness, or errand running if people like your swiftness.
Many odd jobs don't require special skills. But some of them require experience because of the work involved. No homeowner wants their coffee table even more messed up by a beginner with little to no idea of what they're doing. So choose gigs wisely.
You can find these tasks on platforms like TaskRabbit and Craigslist. Clearly list down what you can do and you'll attract the right opportunities that get you even more jobs in the future.
16. Provide professional services online
Do you have a skill or service that you can offer on the Web? If that's the case, you could make money by providing your services to others. For example, you could be a digital marketer, graphic designer, or web developer.
The great thing about offering your services is that it's usually done remotely. So, you can work from anywhere in the world as long as you have a laptop and an internet connection.
To get started, create a list of services that you offer and reach out to businesses or individuals that might need your help. Create profiles on platforms like Fiverr or Upwork to find clients. And once you start getting some regular clients, you can begin charging more for your services.
How Long Does It Take to Make $3,000?
It really depends on which method you choose to make $3,000. If you decide to start a blog, it may take months or even a year before you're able to make that much money (as much as it'll be passively). However, if you sell handmade goods online, you could potentially get $3,000 in just a day or two.
Another factor is your approach and how much time and effort you're willing to put in. If you work more hours, you'll reach your 3,000-dollar income goal quicker.
I Need 3,000 Dollars Now with Bad Credit
If you need $3,000 fast and have bad credit, there are still some options available to you. You can get a short-term cash solution by putting up some sort of collateral.
A secured loan would mean that you give up your property for a while until you pay it back. Some examples of loans for bad credit borrowers are car title loans and pawn shop loans.
Beware that not paying back would lead to the loss of your item of value. So, only borrow what you need and are sure of repaying.
Besides, you can also do things like selling stuff you own or services you can perform. You can list your used items online or help people with various online tasks for quick cash.
What Can I Sell for $3,000?
There are a number of things you could sell to make some quick cash. Here are some examples:
A car
Jewelry
Furniture
Electronics
High-end clothing
You can also sell services like:
Freelance writing
Web design
Graphic design
You may have to sell a couple of things or complete several projects online to get $3,000. For services, it gets easier and more profitable when you're well-established.
How to Make 3,000 Dollars Fast as a Kid
If you're a kid, there are still some ways for you to make money fast. You can do things like:
Babysitting or pet sitting in your community
Doing simple odd jobs for people in your neighborhood
Cleaning houses nearby
Selling handmade crafts that you make
Setting up a lemonade stand in a busy area
Once you build up a good reputation, you'll start to get more clients and can potentially charge more money. Another option is to sell items that you no longer use. You can have a garage sale or sell things online through platforms like eBay or Craigslist.
Keep in mind that as a kid, you'll likely need an adult's help to get started. But once you do, you can start earning your own money.
Final Thoughts
Making $3,000 quickly in a day, a couple of weeks and even a month may seem like a daunting task, but it is definitely possible with some hard work and dedication.
As listed, there are many different ways to make this amount of money, so choose an option that best suits your skills and interests. No matter which idea you choose, know that it's possible to generate an income of $3,000 and even more if you keep up with it.